Licensed for: up to 12 passengers
Code of Practice: 60 miles night or day
Tackle Available: Yes - Contact Skipper, Bait Available: Yes - Contact Skipper
Boat Specification: Lochin 33
Facilities: Tea and coffee, grill and toilet
The Peganina is a fast Lochin 33 with a 2016 Iveco 280hp turbo-diesel engine and an advanced electronic suite.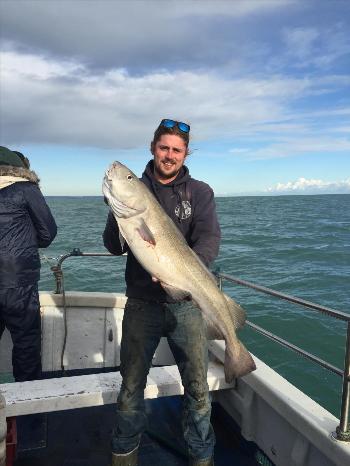 Inshore 6 hours is £300 inshore
Evening Conger trips £300
Other trips are available: 1 to 12 hours
Contact: Anthony
07989778361 (text)
About the Skipper:
Anthony has been boat fishing since the age of 2 and a half, and now, aged 33, has gained a lot of experience and knowledge of UK waters, though he has fished and dived all over the world. He was a very keen dinghy angler before starting his charter career at 22. He began chartering in the waters off the north coast of Cornwall, based out of Newquay, before returning home to work out of Rye. Anthony has also been a member of Dungeness and Newquay lifeboat crews for around 13 years. His qualifications include RYA Advanced Powerboat and RYA Yachtmasters.
End of term report from Anthony ( 17 Nov)
As the first Chart (Cefas) Tuna season ends...here is Anthony's summing up from Peganina (07989778361)...a wonderful experience...
"So what a weekend the boat has had - smashed our new target of 30 by 3 fish!! Amazing team effort, on Saturday we hooked 11, leadered 9 and had two double hook ups. Nigel has fished all around the world and he said that was the best tuna fishing he has ever seen! The fish were literally everywhere you looked! Sunday we leadered 7, the fish weren't feeding as hard but by then me and Geoff were in full swing after what I can only describe as what has probably been the best 9 days charting in my life!! CHART has been an amazing project and a real team effort, proving what can be achieved if we work together moving forward. Hopefully they will run it next year and it will be bigger and better again!"